Reverse Alzheimer's 3.0 Summit: Unlocking Hope and Discovering Solutions
Join Free Reverse Alzheimer's 3.0 Summit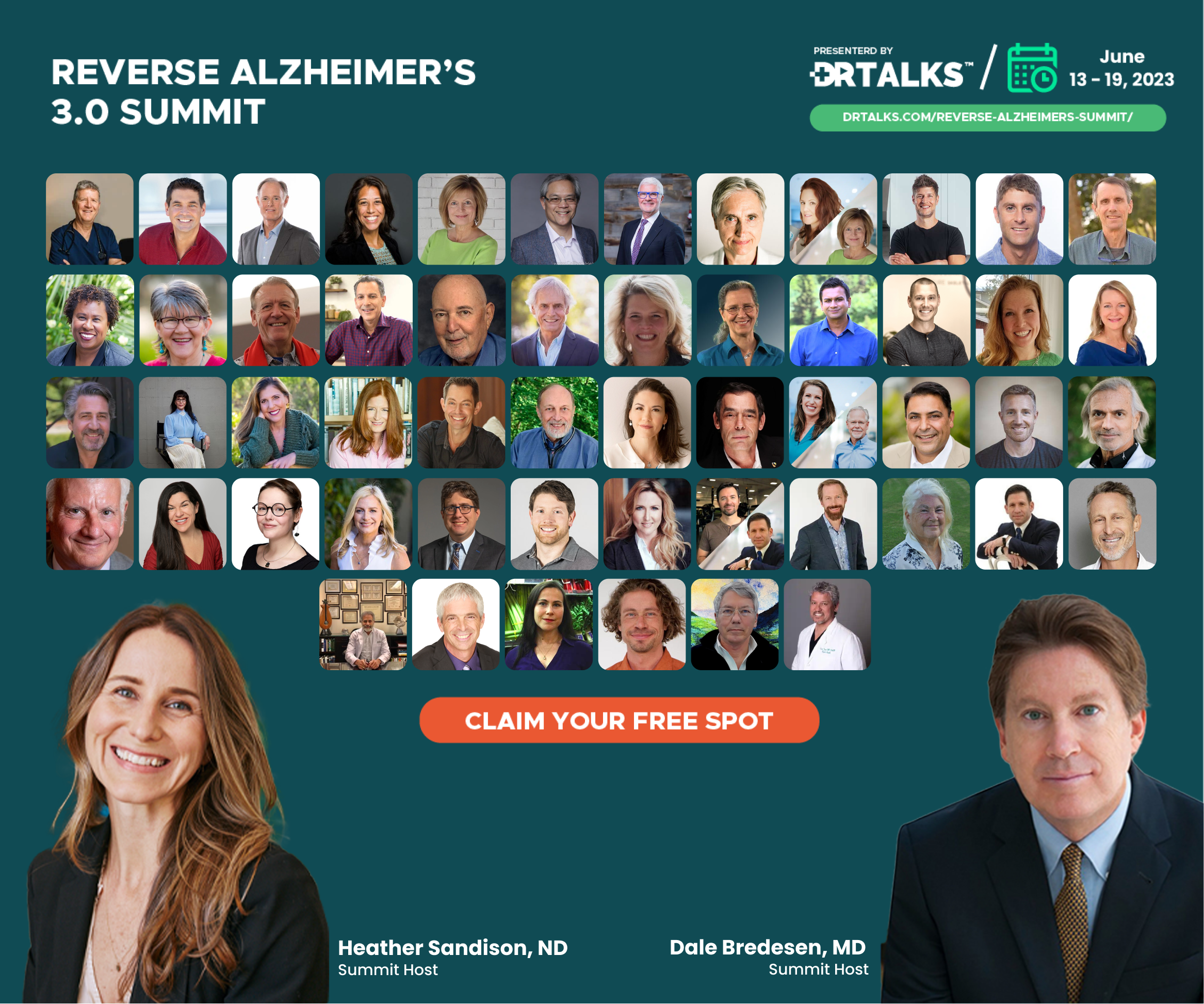 Live Now
Discover groundbreaking solutions and strategies at the Reverse Alzheimer's 3.0 Summit. Renowned experts unveil the secrets to preventing, treating, and reversing Alzheimer's and dementia. Join now and unlock hope at the Reverse Alzheimer's 3.0 Summit.
Are you or a loved one struggling with Alzheimer's or another form of dementia? According to the CDC, over 6.5 million Americans are currently affected by Alzheimer's.
Traditional solutions have proven inadequate, with 99.6% of Alzheimer's pharmaceutical medications failing clinical trials. The need for a new approach is evident as the diagnostic rate for early-onset dementia and Alzheimer's has increased by 200% in the last four years.
That's why the Reverse Alzheimer's 3.0 Summit is a beacon of hope. This online summit, taking place from June 13 to 19, 2023, brings together renowned experts, breakthrough research, and life-changing strategies to prevent, treat, and even reverse Alzheimer's and other forms of dementia.
The Reverse Alzheimer's 3.0 Summit could change your life. Sign up today.
Overview of the Reverse Alzheimer's 3.0 Summit:
The Reverse Alzheimer's 3.0 Summit is a transformative event that offers groundbreaking solutions and strategies for individuals affected by Alzheimer's and their loved ones.
With a focus on science, medicine, technology, neurology, nutrition, and more, the summit aims to safeguard and reclaim memories and lives. It provides a platform to learn from renowned experts who have dedicated their lives to unravelling the mysteries of Alzheimer's and other dementias.
The Reverse Alzheimer's 3.0 Summit provides groundbreaking solutions and support to those affected by Alzheimer's and dementia. It is the opportunity you've been waiting for.
Featured Speakers and Experts:
During the summit, you'll have the opportunity to hear from exceptional speakers who bring unique perspectives and experiences in the fight against Alzheimer's.
1. Dale Bredesen, MD: One of the hosts of the event, Dr. Bredesen is a firm believer that Alzheimer's is not only preventable but also reversible. His talk on Preventing Cognitive Decline has already transformed countless lives.
2. Terry Wahls, MD: Dr. Wahls, diagnosed with secondary progressive multiple sclerosis, embarked on a personal quest to reverse her own condition through a carefully designed diet and lifestyle program. Her talk on Reversing Irreversible Neurodegenerative Diseases provides actionable insights and inspiration.
3. Anna Cabeca, DO, OBGYN: Dr. Cabeca's expertise in the Keto-Green Diet for the Female Brain offers valuable information on optimizing memory, hormonal balance, and overall brain health.
4. Max Lugavere: With a focus on the connection between nutrition and brain health, Lugavere's talk on Genius Foods for Brain and Body Health reveals the science behind eating right for optimal cognitive function.
5. Mark Hyman, MD: Dr. Hyman's talk on How Food Affects Your Brain sheds light on the transformative effects of the Pegan diet in reversing cognitive decline.
The Reverse Alzheimer's 3.0 Summit could change your life. Sign up today.
What You Will Learn at the Reverse Alzheimer's 3.0 Summit: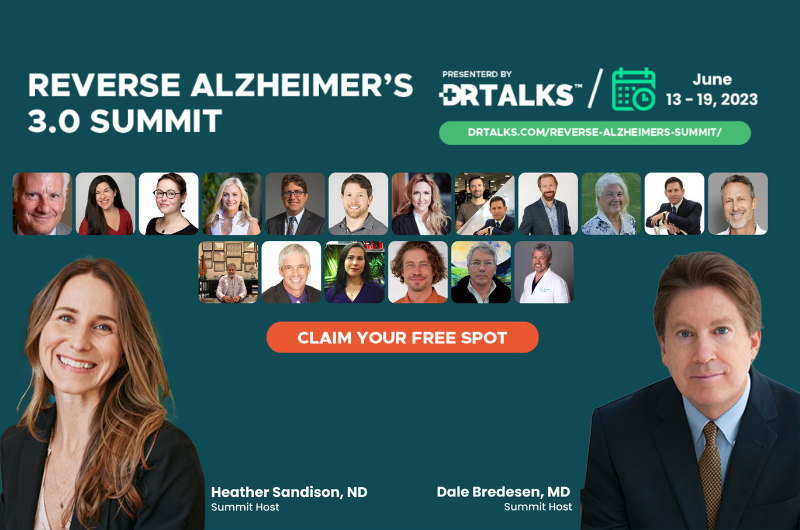 The summit provides a wealth of knowledge and actionable steps for attendees to take control of their cognitive health.
Topics covered include stress management, Alzheimer's prevention, cutting-edge technology, treating the whole person, detoxification, exploring disease connections, nutritional science, and more.
Attendees will have the opportunity to learn how to cope with the stress associated with an Alzheimer's diagnosis, prevent Alzheimer's through brain fortification, find hope through scientific advancements, treat the whole body to heal the brain, detoxify the environment for better cognitive health, explore disease connections, and harness the power of nutrition.
Meet the Hosts of the Reverse Alzheimer's 3.0 Summit:
Dr. Heather Sandison, the founder of Solcere Health Clinic and Marama, is a respected expert in optimizing cognitive function and reversing dementia. At Solcere, her team focuses on addressing the root causes of brain and body imbalances.
Dr. Sandison was awarded a grant to study an individualized approach to dementia reversal and serves as a primary investigator on the ITHNCLR clinical trial. Marama, her residential care facility, provides a healing environment for residents through dietary changes, physical activity, and community-building.
Dr. Dale Bredesen, with a background in neurology and aging research, has made significant contributions to understanding neurodegenerative processes. His work led to the identification of subtypes of Alzheimer's disease and the description of symptom reversal in patients with mild cognitive impairment.
Dr. Bredesen established the Alzheimer's Drug Development Network and has published extensively. He currently teaches at UCLA and continues to drive innovation in Alzheimer's research.
Together, Dr. Heather Sandison and Dr. Dale Bredesen, as hosts of the Reverse Alzheimer's 3.0 Summit, bring their expertise and dedication to help individuals understand and overcome the challenges of Alzheimer's disease. Don't miss this opportunity to learn from their collective insights and groundbreaking contributions in the field of dementia reversal.
BONUS; Download The Brain Regeneration Guide by David Jockers, DNM, DC, MS
Your brain is a magnificent powerhouse, capable of incredible feats. But did you know that it's also susceptible to daily degeneration?
Yes, right now, as you read this, your brain is slowly losing its vitality, leading to memory loss, anxiety, mood swings, and a host of other unwelcome changes. But you can reverse the damage!
Plus, You'll Receive a FREE Ticket to the Reverse Alzheimer's 3.0 Summit.
Conclusion:
The Reverse Alzheimer's 3.0 Summit offers a unique and unparalleled opportunity to gather invaluable knowledge, insights, and strategies to combat Alzheimer's and other forms of dementia.
With a lineup of esteemed experts, attendees will gain a comprehensive understanding of the latest advancements in science, medicine, and lifestyle interventions.
By attending this transformative event, you can take proactive steps toward preventing, treating, and even reversing Alzheimer's.
Don't miss out on this life-changing summit. Click here to join the Reverse Alzheimer's 3.0 Summit now.