Food Matters Institute: Empowering You with Holistic Wellness Knowledge
In hurry? Go Here to register for FREE and Join Food Matters Institute, hosted by JAMES COLQUHOUN
Are you facing challenges such as hormone imbalances, signs of ageing, stress, gut issues, sugar cravings, and a general lack of inspiration, despite your best efforts? 
It's a common struggle that many individuals, including members of our community, have approached me about lately.
To help you find answers, I introduce you to an exceptional resource: the Masterclass Series from Food Matters Institute, created by James Colquhoun.
The Learn How to Balance Your Hormones, Heal Your Gut, Slow the Signs of Aging & Live Your Healthiest Life Masterclass series is designed to delve deep into the underlying reasons behind these issues and provide you with valuable insights and knowledge.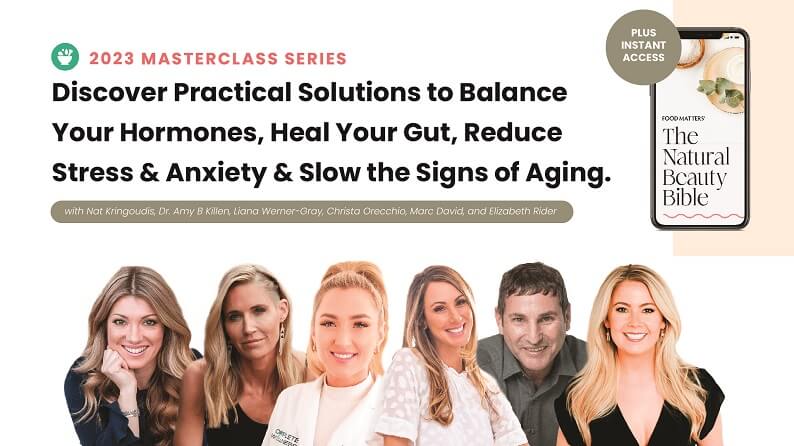 By participating in these masterclasses, you can gain a better understanding of your body and learn how to care for it in a way that promotes overall well-being.
Let's take a closer look at some of the masterclasses you can expect from this series:
1. Understanding Hormonal Health with Nat Kringoudis:
Nat Kringoudis will guide you through an enlightening masterclass that explores the significance of hormonal balance for your overall health. By gaining a deeper understanding of your hormones and how they influence conditions like PMS, PCOS, and Endometriosis, you can take steps toward restoring balance and finding relief. Nat will share practical nutrition and lifestyle tips to help you on this journey.
2. Strategies for Stress Relief and Anxiety Management with Liana Werner-Gray:
In this masterclass, Liana Werner-Gray offers science-backed strategies to reduce stress and alleviate anxiety. By understanding the impact of certain nutrient deficiencies on your mental well-being, you can make informed choices about your nutrition and lifestyle to promote a calmer, more relaxed state of mind.
3. Nurturing Skin Health and Slowing Aging with Dr. Amy B Killen:
Dr. Amy B Killen's masterclass sheds light on the importance of skincare and provides insights into slowing the signs of ageing naturally. Learn about skin health maintenance techniques and discover how to embrace a holistic approach to ageing gracefully.
Register with your email address to be a part of the Food Matters Institute. You will receive links to be a part of each day of the event.
Food Matters Institute Masterclass Series Schedule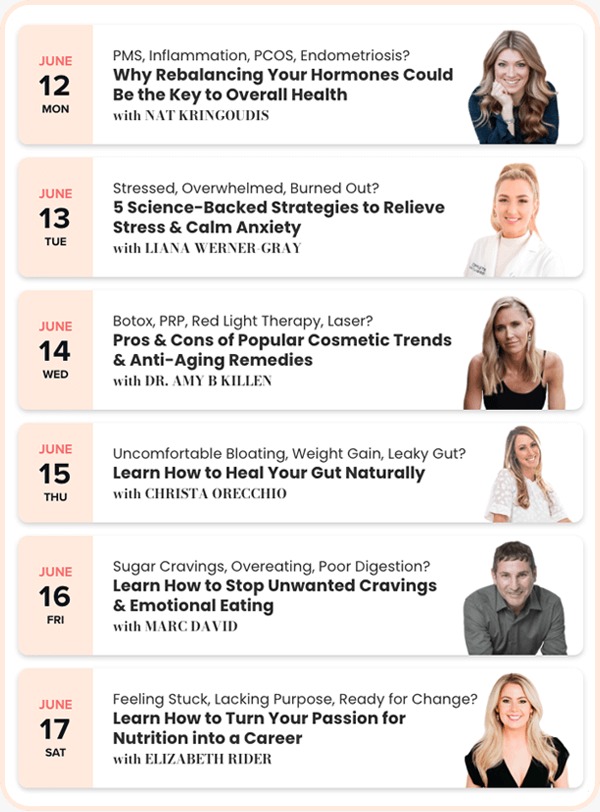 Additionally, we'll be sharing three past masterclasses that have garnered rave reviews from our community:
– Healing Your Gut Naturally with Christa Orecchio: Explore natural methods for improving gut health, an essential aspect of overall well-being.
– Overcoming Cravings and Emotional Eating with Marc David: Gain a deeper understanding of the emotional and psychological factors that contribute to cravings and learn strategies to develop a healthier relationship with food.
– Transforming Your Passion for Nutrition into a Career with Elizabeth Rider: Elizabeth Rider's masterclass is a valuable resource for those interested in pursuing a fulfilling career centred around nutrition.
The Food Matters Institute Masterclass series aims to empower you with the knowledge and tools to lead healthier lives. It's not just about simple remedies or quick fixes; it's about understanding your body and making choices that support your overall well-being.
Take advantage of this transformative opportunity. Take the first step toward holistic wellness by exploring the Food Matters Institute Masterclass Series.